Turner Hall of Monroe

Celebrating 150 Years in 2018!
Ratskeller Restaurant
Ratskeller Restaurant Hours
Lunch: 11:00 am - 2 pm, Tuesday through Friday,
featuring our quick and delicious Express Lunch Buffet for only $9.95!.
Dinner: 5:00 pm - close, Tuesday through Saturday
Monroe's Best Friday Night Fish!: Fridays, 5:00 pm - close
Open at other times for funeral luncheons, private parties, seminars,
small groups, etc. by arrangement; call Eric at (608) 325-3461 for more information.
---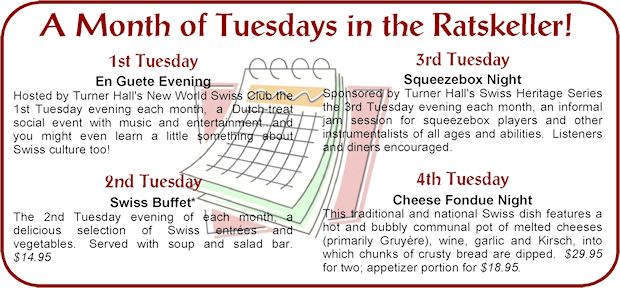 ---
Ratskeller Main Menu
Take a look at our menu, now with expanded Swiss cuisine! You won't find the latest food fads
or trendy items here, just good quality entrées, freshly prepared, at a reasonable price.
We proudly feature locally-produced cheeses in many of our offerings. Friday Night Fish Menu
Main menu also available on Friday nights. Kindermenü (Children's Menu)