Christkindlmarkt - 2015
Christkindlmarkt
(Old World Holiday Market)
Friday-Saturday, November 27 - 28, 2015
9 am - 4 pm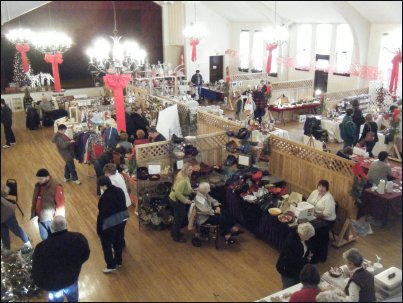 Shopping this year for the perfect gift in Switzerland, Germany or Austria won't necessarily require a passport or an expensive plane ticket. All it takes is a visit to Turner Hall of Monroe's annual Christkindlmarkt on the Friday and Saturday right after Thanksgiving, November 27 – 28, from 9 am – 4 pm.

Turner Hall's Christkindlmarkt will feature the work of select artisans and vendors, with unique, affordable and quality gifts. Shoppers will find a variety of items including fiber and fabric arts, candles, soaps, floral arrangements, rugs, jewelry, home decor and Christmas decorations as well as specifically European items such as Scherenschnitte (scissor cuttings), Kerbschnitte (chip-carving in wood), and Holzschnitte (wood-carvings) For a complete listing of this year's vendors, click here.
Samichlaus, Switzerland's version of St. Nick, will be making appearances at 10:30 am, 12:30 pm and 2:30 pm both days of the market, visiting with children and shoppers, and checking his large book of the year's past infractions! Children of all ages should be on the lookout for Samichlaus' partner, Schmutzli, who makes sure children haven't been too naughty during the year! You can see a video of Samichlaus and Schmutzli at a past Christkindlmarkt here.
The Old World ambiance of the Turner Hall of Monroe provides the perfect backdrop for this unique European-style Christmas market. The Christkindlmarkt, or literally translated, Christ-Child Market, is a traditional German Christmas market with origins dating back to the 14th century. One of the most famous and oldest markets, which was first officially recorded in 1628, is held annually in Nuremberg. Christkindlmarkts take place in many cities throughout Germany, attracting millions of visitors, as well as in areas of the United States where immigrants brought the tradition with them.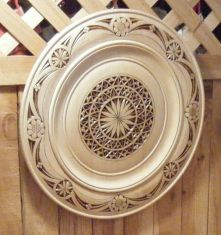 Also part of the market, homemade Swiss baked goods and traditional Glüwein (hot spiced wine), will offer Christkindlmarkt shoppers a chance to relax and take in the holiday atmosphere. The lower level Ratskeller Restaurant will also be open both days of the market from 11 am - 9 pm.
Treat yourself to the experience this year, and you'll want to make the Christkindlmarkt one of your holiday shopping traditions every year!
Listing of 2015 Christkindlmarkt Vendors

ALW Jewelry - handmade gemstone & beaded jewelry
Art4Thirteen - upcycled kids and adult gifts
Chip Carving by Steve Esser & Gottlieb Brändli, Sr. - carved wood ornaments and more
Chip Carvings by Horst Hart - wood items featuring the European art of Kerbschnitte
Crocheted Blankets - handmade by Karen Kennison
Custom Sewing by Sandra - one-of-a-kind fabric gifts and wear for kids and adults
Edelweiss Gifts - Christmas cards, cross-stitch & crochet, jewelry
European Bake Sale - baked goods made by the Monroe Swiss Singers
German Christmas Ornaments - handmade glass German Christmas ornaments
Hoop-di-doo & Gitzi Girls - Swiss-themed & Scrabble jewelry; magnets, hand-knit items
Hope Hollow Creations - fused glass art, spoon rests, candle holders, coasters, platters
Karen's Krafts - unique hand-painted items; embroidered/appliqued shirts
Kline's Kitchen & Grandma Staada's Stollen - pastries, bars, Stollen, decorated cookies
Jason Kundert Woodworking - handmade wood items
Lenny's Canes - walking sticks, canes,wooden toys & bowls
Meadow Ridge Alpacas - items made from Green County-raised alpacas: socks, hats, gloves, scarves, etc.
Misty Meadows Dairy - goat milk soap/lotion and watercolor note cards
Papa's Creations - wood crafts by Ed Gerner
Piranga Candles, LLC - highly fragrant soy candles and accessories
Queen's Court - beautiful hand-painted china; shabby chic cats; natural wall decor
Quilted Crafts Plus - quilted runners, banners, aprons by Sue Rentmeester
Rag Rugs - handmade by Betty Peterson, with crocheted caps and other items
Scherenschnitte - European art of scissors cuttings by Elda and Linda Schiesser
Sewing in Circles - fabric bowls, sling purses, button bracelets
Snip-It - scissors cuttings, jewelry and ornaments
Three Friends Jewelry - hand-crafted jewelry with a Swiss or Christmas theme
Up-a-Creek Dairy Goats - hand-crafted soaps and lotions made with goat milk
Usborne Books & More - educational, activity & fiction books for children
Warmest Mittens by Char - Swiss-themed and other mittens made with upcycled materials
Woodcarvings by Ernst Possner - handcarved figures, bowls, other small items
Wren in the Willows - upcycled mittens, stuffed animals, handwarmers from wool sweaters
The Christkindlmarkt, as well as other programs during 2015, is part of Turner Hall's on-going Swiss Heritage Series. More information on the Swiss Heritage Series is available here.