Tree Lighting with Candles
and Informal Alpine Carol Sing
with the Monroe Brass Quintet

Friday, December 7, 2018; 7:00 p.m.
On Friday, December 7 at 7:00 p.m., the Turner Hall of Monroe will be turning back the hands of time to a period in the not-so-distant past when Christmas observances were much simpler and without the trappings of modern-day consumerism.
The evening's main event will be inviting attendees to help light, with over 100 real candles, a freshly-cut 30-foot live evergreen tree, a custom that was common in many European and American households before the advent of electrity, commercialism and artificial trees. A focal point of many families' Christmases, the decorated Christmas tree had its origins in Germany, probably around the sixteenth century. Martin Luther, the German theologian who lived from 1483 - 1546, is generally credited with originating the use of lights on the tree...in the form of lit candles...in an attempt to describe to his wife and children the beauty of the snow-covered forest under a glittering star-lit sky.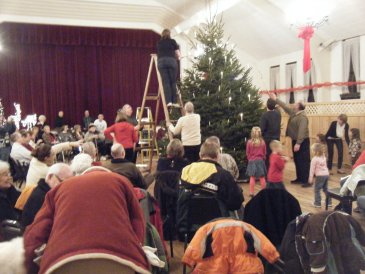 After the tree is lit, carols will be sung while basking in the soft glow of beautiful tree. The Monroe Brass Quintet will provide festive music for the evening.
Swiss Samichlaus and his partner, Schmutzli, will make a visit to check on children of all ages. NOTE: Although this is a family-oriented event, it is advised that it may not be suitable for very small or fearful children.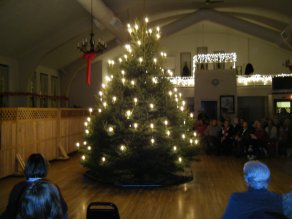 Hot chocolate, along with special Christmas treats graciously provided by The Swiss Colony of Monroe, will round out the evening. There is no admission charge for the event, but free-will donations will be accepted for the Turner Hall's Swiss Heritage Series.
The Swiss Heritage Series would like to thank Stan & Donna Oxenreider of Stan's Rock and Tree Farm near Browntown, WI for their very generous donation of the beautiful evergreen tree.
The Alpine Carol Sing & Tree Lighting, as well as other programs during 2018, is part of Turner Hall's on-going Swiss Heritage Series .More information on the Swiss Heritage Series is available here.