Turner Hall of Monroe
Monroe, Wisconsin
Squeezebox Night
The third Tuesday night of each month,
starting at 6 pm in the Ratskeller Restaurant (lower level).
Dates in 2019: January 15, February 19, March 19, April 16, May 21, June 18,
July 16, August 20, September 17, October 15, November 19, December 17.
Scroll down to watch a short award-winning video about Squeezebox Night.
---
Dust off that old accordion or button box that's been sitting in the attic for years and bring it to the Turner Hall's Ratskeller every third Tuesday evening of the month! Squeeze Box Night, an informal monthly jam session, was introduced in May 2007 by Turner Hall's Swiss Heritage Series as part of an on-going schedule of programs and events that feature Swiss traditions and folk culture. Intended for all ability levels and all types of accordion-like instruments, local accordionist Del Heins is on hand to lead the playing and even offer helpful tips and advice for those who perhaps haven't touched an instrument in years.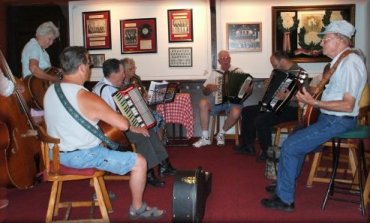 Any instrumentalists are welcome to join the squeezeboxes. It's not at all unusual to see a guitar, banjo, bass player, trumpet, or autoharp at the sessions.

There was a time in Monroe's past when taking accordion lessons was as common as taking piano lessons. Rudy Burkhalter (1911 - 1994), an immigrant from Basel, Switzerland and the upper Midwest's foremost Swiss-American traditional musician, opened an accordion school in 1938 with his wife, Frances, teaching throughout south-central Wisconsin. Once a week, the two would travel to Monroe, New Glarus, Darlington, Dodgeville, Watertown, Beaver Dam, Richland Center, Reedsburg and Baraboo, advertising two months of free lessons as well as furnishing the accordion. Eventually teaching up to 500 students per week, with classes of 20 to 40 students, countless people in Green County learned to play the instrument. Two local Burkhalter students, Roger Bright and Betty Kneubuehl Vetterli, came to be well-known Swiss musicians in their own right. John Waelti, a Monroe accordionist who plays regularly around the area and throughout the state, also studied accordion with Burkhalter and is a regular at Squeezebox Night.

With that kind of history in Monroe and a renewed interest in accordion playing across the country, the Heritage Programming Committee of the Turner Hall of Monroe felt the time was right to offer people a chance to re-acquaint themselves with the instrument in a fun and non-threatening way, as well as offering veteran players a chance to come together and play. The Ratskeller Restaurant's menu offers a wide variety of fare for those enjoying listening while dining.

This video about Turner Hall's Squeezebox Night was the entry that earned Andy Choi, formerly an anchor at CBS affiliate WISC-TV Channel 3 in Madison, Wisconsin, a 2011 National Edward R. Murrow Award for excellence in electronic journalism. The piece, which was filmed December 15, 2009 in Turner Hall's Ratskeller, was viewed by residents throughout south-central Wisconsin on WISC-TV on January 7, 2010. (To view the video, first click on the "play" arrow, then click on either the YouTube logo in the lower right-hand corner, or click on the title of the video in the upper left-hand corner.)

More information on Turner Hall's Swiss Heritage Series is available here.